Dennie B. Mayhone, Jr., the founder of Mayhone Elder Law, PLLC, serves the entire Mississippi Gulf Coast from his office in Ocean Springs.  Dennie is licensed to practice law in the state of Mississippi, and has been accredited by the Veterans Administration to assist veterans and their spouses with VA benefits, including "Aid and Attendance" pension benefits.
Dennie served in the US Army for almost 8 years. Afterward, while attending college full time, he worked with adults with intellectual and developmental disabilities in Oregon and Mississippi. He was also a Special Olympics Coach for Mississippi Areas Three and Twelve.
Dennie witnessed the impact on his family of his grandfather's decline in health and subsequent passing. He watched as his mother, still processing her own grief, had to navigate the probate process while wading through the chaos of family strife. Dennie thought there had to be a better way to protect a person's wishes while limiting the conflict that could arise within their family.  These events, and his experience with the disability community, helped shape his worldview and guide his actions during law school and when he opened his own firm. He has dedicated his legal career to assisting families avoid the difficulties his own family had to face.
To accomplish those goals, Dennie practices in the areas of estate planning and elder law, helping clients and their families to integrate their legal, financial, and personal care needs into a plan to enhance the quality of life for seniors, those with disabilities, and their families. He assists families to protect assets, coordinate care, and gain peace of mind.
He is a frequent speaker and presenter to seniors, caregivers, support groups, and the general public. He does monthly workshops to educate people on the pitfalls to avoid when planning and how to protect themselves and their families.
He is also an author and co-author of several books.
Co-author, "Don't Go Broke in a Nursing Home!" Mississippi Gulf Coast Edition
Co-author, "Tax-Free Money for Long-Term Care" Mississippi Gulf Coast Edition
Author, "You're Not Alone: Living with Alzheimer's Disease"
Author, "You're Not Alone: Living as an Alzheimer's Caregiver"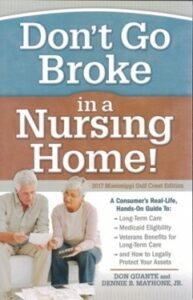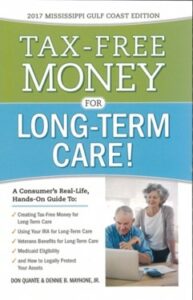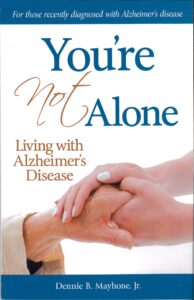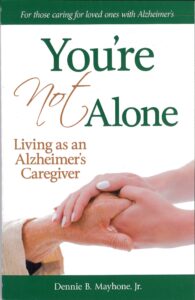 His practice includes a team of caring professionals, including a Medicaid Specialist and an Elder Care Coordinator, all of whom embrace the values of helping seniors and their families navigate the maze of issues often faced as we age.
Mayhone Elder Law is committed to helping families respond to the legal, financial, personal care need challenges presented by long life, illness, and disability. As an elder law practice that focuses on issues faced by seniors and those with disabilities, and their families, we help protect assets, coordinate care, and work together to enhance the quality of life for seniors and those with disabilities.